How to Use FreeOneHand
FreeOneHand™ iPad® Holder & Stand Gives You the Freedom to Use Your iPad Any Way and Anywhere You Want.
The FreeOneHand is a multi-function accessory that makes using an iPad even better. Works as a holder, stand and easel in all positions, left or right handed, anywhere you can imagine.
Watch this video to see how to use your FreeOneHand.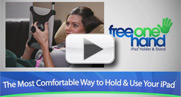 Get Started Using FreeOneHand
Step 1: Just slide your iPad into two corners of the FreeOneHand.
Step 2: Pull and clip one corner on the iPad.
Step 3: Pull and clip on the final corner.
Step 4: Make sure the iPad is secure, and you are ready to go.
Comfortable One-handed Grip for the iPad
FreeOneHand lets you comfortably hold your iPad in one hand, freeing the other for data entry, presentations, emails, reading to kids, interacting with magazines, organizing photos, surfing the web and so much more. Go ahead use your iPad laying down, in your favorite chair, at the office, on a train, plane or anywhere you like.
Ergonomic Design
The FreeOneHand™ iPad Holder and Stand is engineered to be the most ergonomic holder on the market, taking strain off hands and wrists, allowing for hours of comfortable use at a time.

Only $39.94!

100%
Replacement
Guarantee
*UPS Ground Shipping and UPS Standard Shipping only. Limit 1 promo code per order, cannot be combined with any other promo code.
For expedited shipping and international orders please call 1-800-317-2663 to receive the shipping discount credit.
Our Ergonomic Specialist Recommends Two Grip Positions:
Power Grip - Put your thumb through one of the bottom holes, and wrap your palm around the knob handle. The Power Grip is most efficient and comfortable position for using your iPad over extended time, and is 5 times as efficient as holding it in a "pinch grip" or with both hands on the edges.


Split-Finger Grip - Position the knob between your index and middle fingers or middle and ring fingers similar to a baseball glove. This places the weight on larger, stronger muscles in your arm and elbow. The Split-Finger Grip is also significantly more efficient than a "pinch grip".
There's No Wrong Way to Hold FreeOneHand
FreeOneHand provides many ways to hold your iPad. This lets you switch between left and right hands, and grip positions for hours of effortless use. So hold it any way that feels most comfortable for you.
Great as an iPad Stand or Easel
Free two hands when you use it as an iPad Stand. FreeOneHand grips most any surface and works in portrait and landscape orientations, providing a natural typing position. Perfectly angled for working on documents, playing games, watching movies and sharing the view with family, friends and colleagues.

Protect Your iPad
FreeOneHand protects your iPad from drops and falls by safely and securely holding your iPad in one hand or using it as a stable stand in any position. The "feet" also protect your iPad when you set it screen side down.