FreeOneHand Ergonomics
Free Yourself from the Weight & Strain of Holding an iPad®.
The FreeOneHand™ iPad Holder and Stand is engineered to be the most ergonomic holder on the market. Hand Surgeons and Ergonomic Specialists were consulted during product design to create the most efficient and comfortable way to hold and use your iPad with one hand.
We started with a lightweight elastomer material that provides enough rigidity to hold a 1.6 pound iPad, while keeping a rubber-like softness for comfort during use. Weighing only 2.3 ounces (.065 kilograms) FreeOneHand works ergonomically as a one-handed holder in all portrait and landscape positions for left and right handed users. FreeOneHand also provides an ergonomic and natural typing position, when used as a stand or easel.

FreeOneHand iPad Holders are designed to take strain off hands and wrists. Now you can enjoy your iPad even more while reading, entering data, making presentations, watching movies, surfing the web and organizing your photo albums for hours at a time. The sure and secure grip frees you from the worry of dropping your iPad.

Watch this video to see how to use your FreeOneHand.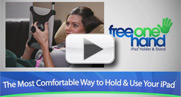 Only $39.94!

100%
Replacement
Guarantee
*UPS Ground Shipping and UPS Standard Shipping only. Limit 1 promo code per order, cannot be combined with any other promo code.
For expedited shipping and international orders please call 1-800-317-2663 to receive the shipping discount credit.
Our Ergonomic Specialist Recommends Two Grip Positions:
Power Grip - Put your thumb through one of the bottom holes, and wrap your palm around the knob handle. This is the optimal position for your wrist, neutral to 5 degrees. It places the weight on larger muscles in your hand and wrist. It is the most efficient and comfortable position for using your iPad over extended time. The Power Grip is 5 times as efficient as holding it in a "pinch grip" or with both hands on the edges.
Split-Finger Grip - Place your index and middle finger over the knob and your ring and pinkie fingers under the knob, similar to a baseball glove. This places the weight on larger, stronger muscles in your arm and elbow. The Split-Finger Grip is also significantly more efficient than a "pinch grip".
Both positions are more comfortable and ergonomically efficient than the "pinch grip", and will allow you to enjoy your iPad for longer periods of time.
There's No Wrong Way to Hold FreeOneHand
FreeOneHand iPad accessory gives you countless grip options to hold your iPad. This allows versatility between left and right hands, and grip positions for hours of effortless use.
If you find a position that is especially comfortable for you, share it with other FreeOneHand users. Take a picture and post it to our Facebook Page or email it to us at [email protected] Sign up for our RSS feed and blog to receive updates on the most ergonomic and comfortable grip positions for FreeOneHand iPad Holder & Stand.